THIS WEEK IN WILD BEAUTY: October 15th, 2022
The Wild Beauty Foundation welcomes you to the twenty second edition of our weekly newsletter!
Read the newest wild horse and burro focused headlines for the week of October 15th, 2022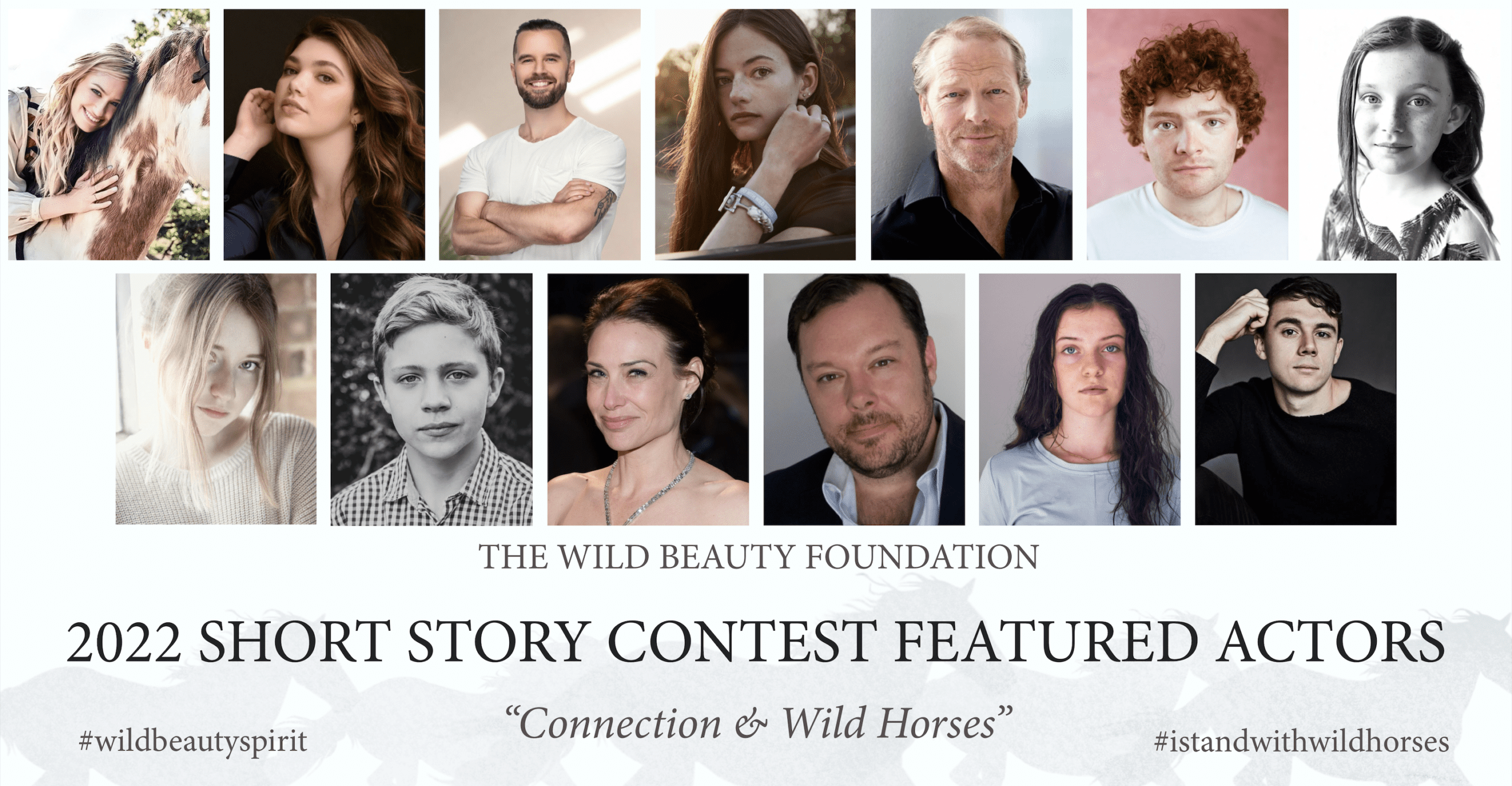 Our 2nd Annual Short Story Contest's Entry Deadline is Approaching!
Do you know a kid or teen who loves wild horses and enjoys writing creative stories? Tell them to enter our 2nd Annual Short Story Contest!
We have a little more than two weeks before entries close, so there is still time to submit your writing for a chance to win!
Our 2022 Short Story Contest theme is "Connection & Wild Horses", further illuminating the beauty of a wild horse bond. Write an original short story about the connection between two wild horses, a wild horse and a human, or any creative connection that a wild horse might form.
You could write about encountering a wild horse out on the range yourself, or focus on wild horse families. Your story could be in first person, like Anna Sewell's Black Beauty, or it could be third person.
The creative possibilities are endless. Make sure to do your research to learn about wild horses to give your story extra authenticity!
Once your story is complete, we encourage you to post about it on social media. Tag WBF and use our hashtags for a chance to get featured on our channels! The more you post, the more we can raise awareness for wild horses who need help today.
Winning stories will be selected by a delightful panel of judges and read aloud by one of our amazing equine loving celebrities! We also have a selection of exciting wild horse themed prizes for our grand prize winners and finalists, so be sure to get your stories in soon so you can be eligible to win!
You can read more about contest rules, and submit your own story on our official WBF Short Story Contest page.
We at WBF thank you for standing with wild horses and using your voice to champion for their protection. We thank you, wild horses thank you.
Updates on the Alpine Wild Horses
It has been a week since the horrific massacre of the Alpine wild horses. Since then, Salt River Wild Horse Management's official count has found 20 deceased horses, with 30 still missing. These horrible acts of brutality against our nation's wild horses must come to an end.
Those investigating this shooting suspect that there were multiple shooters and a driver, considering the amount of horses found deceased in one area. They believe the perpetrators knew the habits of these wild horses and used their knowledge to an advantage. It was also revealed that they illegally killed a bull elk on the property during the same time, even opening and closing cattle gates to access different areas of the forest.
A $25,000 reward is currently being offered for information leading to the conviction of the assailants. Advocates are currently on the ground monitoring the situation and searching for missing horses. We must not let these dangerous individuals get away with such a horrible attack on the wild ones of our country.
This Week's Call To Action
Write to Congress and Urge them to Stop the Massacre of the Alpine Herd, Investigate, and Bring Criminal Charges to those Involved.
We urge you to help the State of Arizona, and the wild horses of the Alpine herd..
Last week, a historic herd of wild horses in the Apache-Sitgreaves National Forest known as the Alpine herd was targeted with fatal shootings by an unknown assailant. Twenty horses have already been found dead, with at least thirty still missing.
The Forest Service deems the Alpine horses as "stray livestock," and therefore has no intention of abiding by the Wild Free-Roaming Horses and Burros Act of 1971, which affords all wild equines a measure of legal protections.
The shocking reality is: this is not the first time a horrific shooting has happened in this same forest — A nearby herd of federally protected wild horses, the Heber herd, has also been targeted with shootings in the past few years, with at least 40 horses killed since 2018 without an individual being brought to justice.
Please stand with these horses now, and send a message to your State Representative and Federal Members of Congress.  We must act immediately as this is unfolding.
You can easily write to your Members of Congress using the automated form below, and can customize your message if you would like.  
We've received hundreds of signatures on this petition so far, and must keep our momentum going to help save the Alpine horses.
To further help the State of Arizona, you can call:
Senator Mark Kelly: 602-671-7901 / 202-224-2235
Senator Kyrsten Sinema: 602-598-7327 / 202-224-4521
Tucson Office: 520-475-5177
The Wild Free Roaming Horses and Burros Protection Act Introduced by Lawmakers
On October 7th, 2022 a new bipartisan wild horse protection bill was introduced in the US House of Representatives. The Wild Free Roaming Horses and Burros Protection Act of 2022 brings amendments to the 1971 legislation of the Wild Free Roaming Horses and Burros Act.
Introduced by US Reps. Raúl Grijalva, chairman of the House Committee on Natural Resources; David Schweikert, Joe Neguse, Steve Cohen, Dina Titus,  and Brian Fitzpatrick, this bill would protect wild horses from entering the slaughter pipeline, put a focus on humane management, and promote partnerships with nonprofits and American veterans to better manage the American west's wild horses. Additionally, the bill would work on restoring western rangeland and increase the Bureau of Land Management's transparency in their wild horse and burro programs.
This piece of legislation is a much needed revision to The Wild Free Roaming Horses and Burros Act of 1971, and aims to close any loopholes that the BLM has found since its introduction. Any additional protections to our wild horses and their management is extremely important, and we must let our Members of Congress know that. Now that this bill has been introduced, be sure to let your lawmakers know they should support it and the conservation of our wild world. We at WBF look forward to supporting this bill too, and seeing it through to its passage.
Indian Lakes Holding Facility Offering Public Tours
In last week's newsletter we covered the completed roundup of the Calico Complex wild horses. The captured horses have since been shipped to Indian Lakes Off-Range Holding Facility in Fallon, Nevada. Indian Lakes, called Broken Arrow at the time, came under fire in 2010 after a roundup of the same complex; with mass deaths at the facility causing public outcry. Horses were left to starve, and suffer from injuries caused by the roundups and/or separation from their families.
Now, in 2022, the Calico Complex wild horses are being rounded up and shipped to this facility for holding again. Incarcerated with the Calico horses are those from the Triple B HMA of Nevada. The Triple B roundup was the first WBF was able to witness live and capture for our Wild Beauty: Mustang Spirit of the West Documentary. These horses are dear to our hearts and we hate to see them exposed to the potentially inhumane treatment that occurs in these facilities.
This week, the BLM announced the second public tour of this facility this year, slated for November 4th, 2022. The tour is free for anyone to attend and will provide great public insight into the conditions of the horses in this facility. Since Indian Lakes is privately owned, it is closed to the public until BLM scheduled events open the doors. This can lead to a lack of transparency between the BLM and the public who have a right to know how wild horses from their public lands are being managed and treated behind closed doors. Photography is also welcome during this tour, which is encouraging to hear.
If you are interested in touring Indian Lakes and seeing the treatment and incarceration at the BLM's holding facilities firsthand, you can find more information from the Bureau of Land Management's official press release.
WBF's 2nd Annual Short Story Contest's Equine-Loving Celebrity Reader: Calam Lynch
Joining us again this year for our Second Annual Short Story Contest as an Equine-Loving Celebrity Reader is actor Calam Lynch!
Calam grew up in England and began acting in stage productions during his college years at Oxford. This led him to a career in acting after booking a role in Dunkirk in 2016.  In 2020, Calam starred as George Winthorp, a competitive equestrian empathetic for horses in the Disney+ film, Black Beauty. He is also known for Benediction, Derry Girls, and most recently as Theo Sharpe in Bridgerton.
We are so glad to have Calam back as a celebrity reader this year, and look forward to hearing him read one of our finalists' incredible stories!
Submit your writings soon; the deadline to enter is only a couple weeks away!
The entry deadline is October 31st, 2022 so be sure to get your stories in now so they can be considered by our wonderful panel of judges. To learn more about the short story contest or submit your story, visit our website!
Don't Forget to Check Out our Wild Wild Halloween Collection!
To celebrate spooky season and all things wild horses, we have a new limited edition line of Halloween apparel from The Wild Beauty Boutique! Perfect for a night of spellbinding celebrations or taking the family out to trick or treat, you can show your support of wild horses anywhere your witch's broom takes you!
Our limited edition Halloween shirts are available in both adult and kids sizes, so the whole family can show their support for wild horses!
Check out the new Wild Wild Halloween collection from The Wild Beauty Boutique before they're gone!

Glimpse of Wild Beauty
An Onaqui mustang stands regaly, overlooking the wild world he calls his home in Sahna Foley's gorgeous photo. We thank her for sharing this glimpse into wildness with us and for being a passionate advocate for the protection of our wild beauties.
A Quote to Graze On
"Wild Beauty weaves together the intoxicating beauty of our wild world with the horrifying realities that exist due to special interests. / Their existence on the lands they call home enrich our lives and future generations, simply, by being wild and free. Protecting wildlife will forever be up to us"
– Kimerlee Curyl
We at WBF appreciate Kimerlee's kind words on our documentary, Wild Beauty: Mustang Spirit of the West. Her inspiring advocacy continues to influence change and nurture appreciation for our wild world.
Thank you for being a supporter of wild horses, and protecting the wild beauty of our world.
– The WBF Team
#istandwithwildhorses #wildbeautyspirit
Have an idea for a story or a tip for us?
Email hello@wildbeautyfoundation.org
Are you a wild horse photographer who would like your work featured in our newsletter or social media pages?
Email a ZIP or link to your photos, along with a short written approval to hello@wildbeautyfoundation.org!
Join Us On Our Journey.  We'd love to stand beside you.
WBF Facebook
www.facebook.com/wildbeautyfoundation
WBF Instagram
www.instagram.com/wildbeautyspirit
WBF Twitter
www.twitter.com/wildbeautyorg