In our world today, the issues wild and domestic horse face are shockingly under illuminated.
From devastating helicopter roundups, mass government holding facilities, healthy horses being shipped across U.S. borders to slaughter, and the breaking apart of families.  These cruel, antiquated practices need to end.
Halt the Roundups
WBF Letter Writing Campaign
Join our letter writing campaign now to urge Congress to protect wild horses, and to halt the helicopter rounds for 2022 while the horse and burro program can be properly assessed. Not by ignoring science, truth, and hard facts— but by embracing how we can humanly protect wild horses and keep them on the range.
If we do nothing, the wild ones will disappear into history forever.
Help by following these steps!
Write a message intended for your Congressmen, Senators, Secretary of the Interior Deb Haaland, or President Joe Biden.
In the letter, explain in your own words that you feel wild horses should be protected. For this 2022 campaign, please use wording that encourages the roundups to be halted for 2022, so that the Horse and Burro Program can be re-assessed from a scientific lens.
Send your letter to us by using the message form here. We'll then forward it on to Washington D.C..
#iStandWithWildHorses
Social Media Campaign
Join our social media movement. We are hoping to sweep the web in 2022 with our #istandwithwildhorses campaign to protect the wild horses and their families, who are slated for devastating helicopter roundups.
This campaign was kicked off by the impending removal of the iconic horses of Onaqui in Utah, which are amongst the most iconic, photographed, and visited wild horses in the country.
Join our social media movement! It takes just a few minutes to make a big difference.
Follow these steps!
On a piece of paper write the words "I Stand With Wild Horses." Feel free to get creative!
Take a photo so that it features the key words— and of course, your face!
Upload the photo to your social media account.
Tag the campaign with the WBF hashtags below!
Encourage your friends to participate too!
USE THESE HASHTAGS!
#istandwithwildhorses #wildhorseteamwork #wildbeautyspirit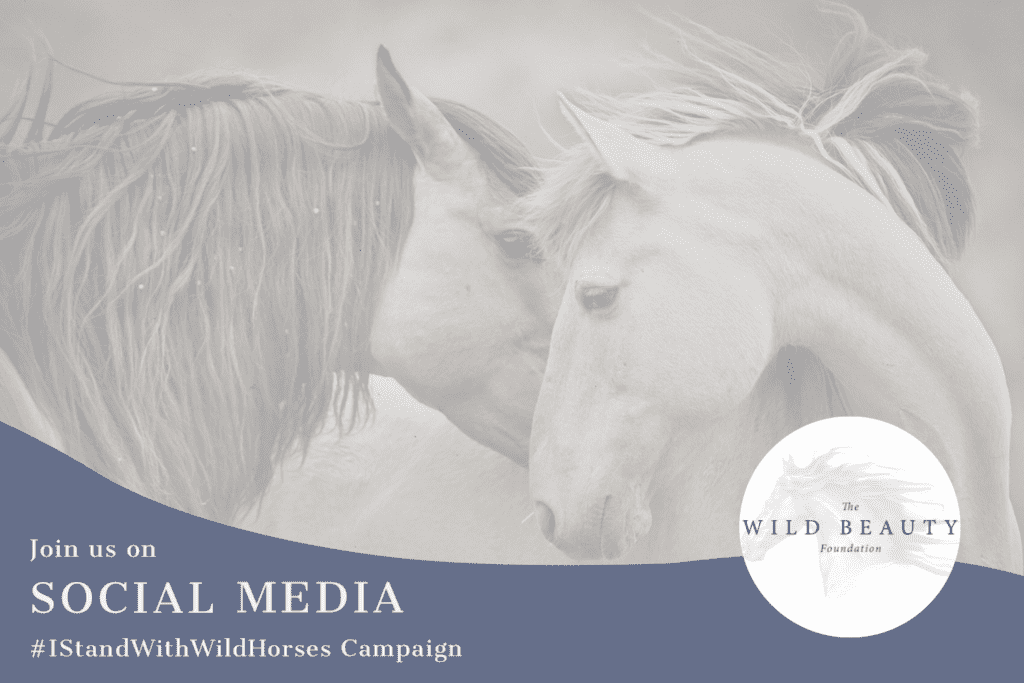 Instagram: @wildbeautyspirit 
Twitter: @WildBeautyHerd
Facebook: Wild Beauty Foundation
Watch WBF social media as well as the #istandwithwildhorses campaign page for your photo to be featured
Did you know that the founders of WBF made the 2020 Disney movie, Black Beauty? You can check out the trailer, along with content from our very own WBF documentary, a mustang mini-series, and more on the WBF Film Page.

Want to Help Support WBF?
Every single dollar counts to help raise awareness or save horses in need!
Show your support by wearing an official WBF t-shirt, sipping your coffee from one of our mugs, or carrying a tote.  You can also help by hosting a fundraiser with your community, school, or workplace— the possibilities are endless!  You can make a donation through our website, too.